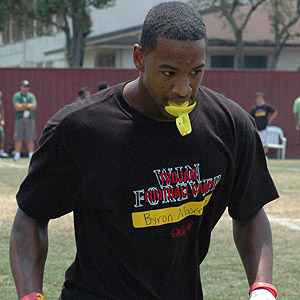 Another day, another player lost.  It was announced today that Byron left the program and enrolled at L.A. Harbor college.  It's not clear why he left the program but usually situations like this involve either 1) academics or 2) personal issues; if Byron didn't like the coaches or SC he would have transferred to another school.
I wish Byron the best.  I always thought he was a kid that could flourish at SC given a few breaks.  He had a nice feel for the game and I thought he'd eventually settle down as a Free Safety.
In terms of where it leaves us, Byron's departure really doesn't impact the team next season since Jawanza Starling was the clear starter at FS.  From a depth standpoint, the loss will likely be offset by Patrick Hall who the coaches are starting off at RB but I'm also certain will end up elsewhere (personally I think he's best suited for FS).