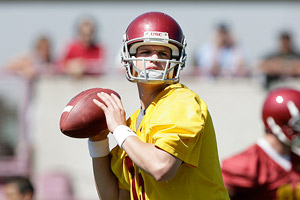 From Scott Wolf:
Quarterback Aaron Corp, who missed practice because of a bruised knee, will undergo an MRI tomorrow. He underwent X-rays today and met with doctors.
"It hurt too much,'' Corp said. "I woke up this morning and it was swollen. Over the course of practice, it felt looser and looser.''
As someone who has gone through multiple knee injuries, Aaron's description definitely does not sound good. To wake up in pain with your knee swollen and then feel gradual looseness, it sounds like ligament damage to me.  Hopefully it's nothing more than a strain...